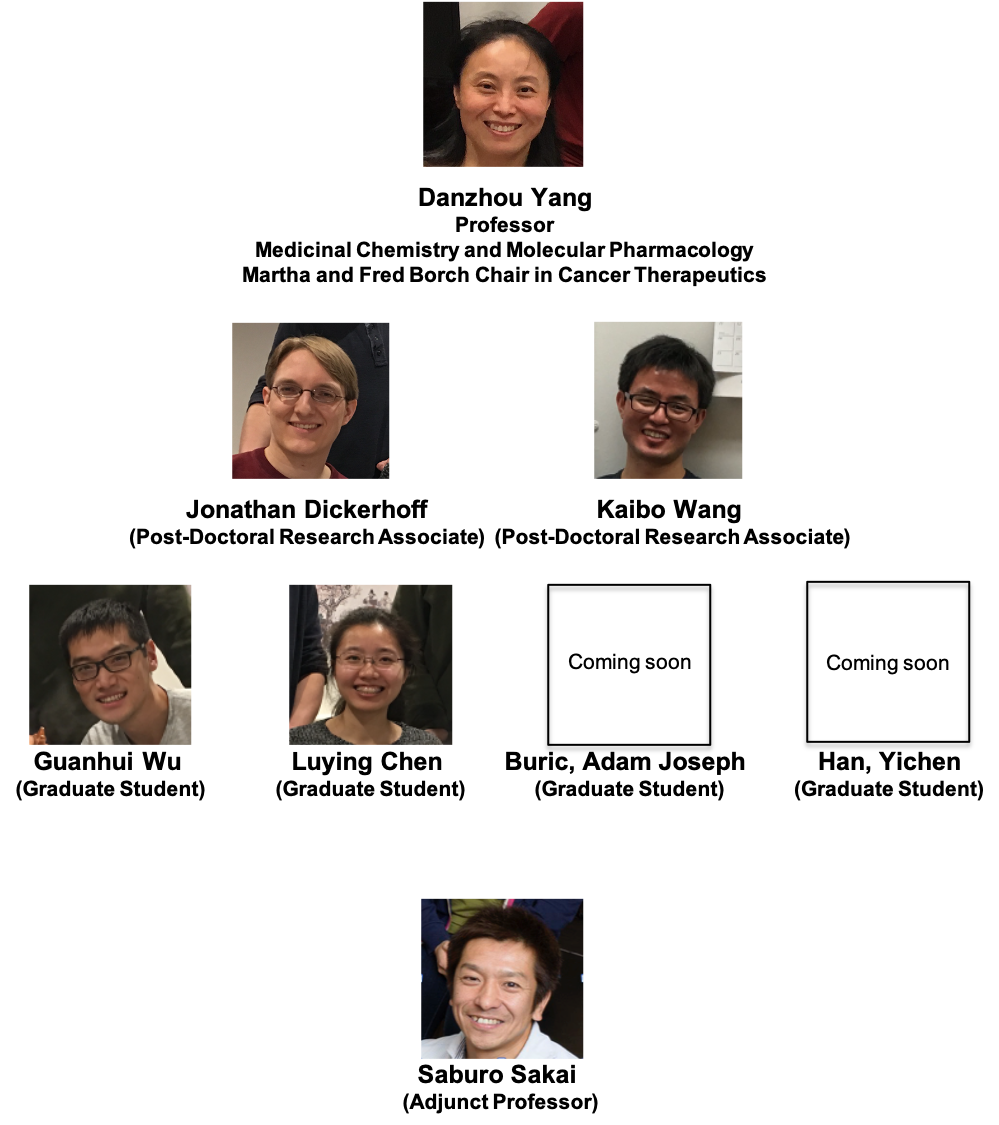 Former member

University of Arizona, College of Pharmacy
Postdoctoral and Research Associates/Research Scientists:
Megan Carver (2001-2016)
Jixun Dai (2001-2012)
Zhizhong Meng (2002-2004)
Attila Ambrus (2003-2006)
Chanda Punchihewa (2006-2007)
Emmanuel Hatzakis (2008-2010)
Ravi Mathad (2008-2011)
Prashansa Agrawal (2010-2014)
Yuwei Chen (2014-2015)
Research Technician:
Rajashree Karale (2013-2014)
Joseph Vasko (2013-)
Graduate Student Thesis:
Chanda Punchihewa (Adikaram), BCP/Medicinal Chemistry, 2001-2006, Ph.D. (2002 and 2003 BCP fellowship recipient) Dissertation: DNA and DNA-interacting proteins as anticancer drug targets.
Ding Chen, BCP/Medicinal Chemistry, 2003-2007, Master of Science. Dissertation: Structure and drug-binding study of G-quadruplexes.
Keika Okamoto, Pharmacology and Toxicology, 2008-2009.
Jessica Fortin, Medicinal Chemistry, 2008-2010, Master, Co-advisor
Yuwei Chen, BCP/Chemistry, 2009-2014, Ph.D.
Clement Lin, Drug Discovery and Development, 2010-2016, Ph.D.
Buket Onel, BCP/Chemistry, 2011-2016, Ph.D.
Guanhui Wu, Drug Discovery and Development, 2015-2016, Ph.D. Candidate
Ph.D. Student Thesis (Co-Advisor):
Daniel (Zhenjiang) Zhang, 2008-2009, Chemistry, Beijing University, China
Wenting Liu, 2014-2016, Ph.D. candidate, School of Chemistry and Chemical Engineering, Sun Yat-Sen University
Kaibo Wang, 2015-2016, Ph.D. candidate, Shenyang Pharmaceutical University
Visiting Ph.D. Student:
Carolina Espino Barrera, 2012, Ph.D. candidate, Pharmaceutical and Biological Chemistry, Faculty of Chemical Sciences La Salle University, Mexico
Zeinab Mokhtari, 2012-2013, Ph.D. candidate of Analytical Chemistry, Institute for Advanced Studies in Basic Sciences (IASBS), Iran
Undergraduate Research:
Beth Rosenberger (2001-2002, Pharmacy student)
Alicia Newkirk (2001, Pharmacy student)
Adrienne Kiehle (2003-2006, UBRP student, Physiological Sciences)
Ly Ho (2003-2004, senior thesis, Biochemistry and Molecular Biophysics)
Adrian De Alba (2004-2006, Minority Health Disparities Program)
Lucy Sanchez Covarrubias (2006, Minority Health Disparities Summer Program)
Mimi Tat (2006-2007, Senior Honors Thesis, Molecular and Cellular Biology)
Irene Alderete (2007 Summer, Arizona Biology Network Summer Program)
Matthew R. Karolak (2007-2008, Biochemistry)
Newsha Sarmadnia (2007-2009, Biochemistry)
Marti Larriva (2007-2010, Chemistry)
Bobby Abdallah (2009-2010, Chemistry and Biochemistry)
Frank W. Li (2010-present, Physiology, UBRP, accepted in 2012 Cancer Biology Graduate Program)
Mitchell Louis Catling (2011- Chemistry)
Nicholas Zehrbach (2012-, Biochemistry and Mol Cell Bio, UBRP)
David Luu Phu (2013-, Environmental Sciences)
Kin Luu (2013-, Physiology)
Daria Timonina (2014-, Biochemistry and MCB)
Spencer Escobedo (2014-, Biochemistry) (Ph.D. Purdue University)
Salil Kalarn (2014-, Biochemistry) (M.D., A.T. Still University)
Pharm. D. Student Research:
Marti Larriva (2010-2011, 2014 class)
Lea Mollon (2010-2011, 2014 class)
Rob Sanzenbacher (2010-2011, 2014 class)
Michael Ivey (2010-2011, 2014 class)
Ryan Brewer (2013-, 2016 class)
Purdue University, College of Pharmacy
Research Scientists:
Megan Carver (2016)
Postdoctoral and Research Associates:
Buket Onel (2016-)
Clement Lin (2016-)
Pradeep Tarikere Palakshan (2017-)
Kaibo Wang (2017-)
Jonathan Dickerhoff (2018-)
Research Technician:
Jaspreet Jaspreet Farmahaboundary (2016-2017)
Tara Norris (2017-)
Ph.D. Graduate Student Thesis:
Guanhui Wu, MCMP, 2016-, Ph.D. Candidate
Luying Chen, MCMP, 2016-, Ph.D. Candidate
Ph.D. Student Thesis (Co-Advisor):
Wenting Liu, Ph.D. candidate, School of Chemistry and Chemical Engineering, Sun Yat-Sen University, 2016
Kaibo Wang, Ph.D. candidate, Shenyang Pharmaceutical University, 2016-2017
Undergraduate Research:
Joanne Yu-Xuan Lin (College of Pharmacy, 2016-)
Coral M. Peréz González (University of Puerto Rico, 2017 Summer)
Jeungeun Lee (BS/PS, 2017-)